Please link to the magazine for many more photos:
https://www.soundonsound.com/reviews/vintage-odyssey-dan-alexander
A Vintage Odyssey (Dan Alexander)
Book Review
By Hugh Robjohns Published July 2021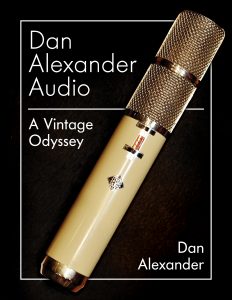 In my formative years, the term 'vintage' applied only to steam traction engines and cars built before the Second World War — quirky, unreliable machines that no one really wanted! These days it seems the term is associated with high fashion and, usually, high value, too. This is certainly true of the vintage pro‑audio market, where original equipment now often changes hands for eye‑watering amounts. But it wasn't always like that…
Back in the early 1970s and right on through to the '90s in some cases, recording studios and broadcasters on both sides of the Atlantic were literally throwing 'redundant' valve (tube) microphones, outboard processors and 'old‑fashioned' valve and transistor mixing consoles into skips. It seemed no one really wanted this kind of equipment anymore; studio owners and broadcasters all wanted the latest high‑tech equivalents that promised more functionality, better specifications, took up less space, needed less maintenance and demonstrated how 'ahead of the game' and forward-thinking they all were.
At around this time Dan Alexander — who, in his time, has worked as a professional musician, songwriter, studio engineer, producer, music and studio owner, mostly in the USA — had the instinct or insight to realise the sheer folly of this widespread practice. So, he started buying up all this 'junk' at what, from a modern perspective, seem incredibly low prices and in mindboggling quantities!
His new book, A Vintage Odyssey (published by Rowman & Littlefield, ISBN: 978‑1‑5381‑4201‑1), is largely an autobiography of his experiences in buying and selling all manner of vintage pro‑audio equipment, combined with some fascinating history about the leading manufacturers and their products, including over 400 colour photographs, scans of original manufacturer brochures, and lots of other historical material. Dan has also included a considerable amount of data from his original sales ledgers detailing his purchase and sale prices, and the mind‑boggling quantities of rare and now‑valued equipment which have passed through his hands.
I sat down with this book at lunchtime to just flick through a few pages and get a quick impression. I was still sitting there four hours later, completely engrossed…
When it arrived I sat down with this book at lunchtime to just flick through a few pages and get a quick impression. I was still sitting there four hours later, completely engrossed in both Dan's incredible stories of sourcing equipment, his jaw‑droppingly astonishing wheeler‑dealing, and the fabulous rare and utterly fascinating equipment being described.
The book is divided into 81 chapters, many being only a few pages long, but each covering an individual manufacturer's vintage products, with entries for AKG, API, Cadac, Calrec, EMT plates, Helios and Neumann. There are 11 separate chapters on different aspects of Neve's products, and others covering Pultec, Pye, RCA, Schoeps, Sony, Telefunken, Trident, Urei and many more. Other chapters describe Dan's background, and several specific purchasing escapades in America, the UK and Europe. There's masses of intriguing material for vintage gear fans here — some I've not seen anywhere else — and it's the kind of book you can dip in and out of easily to pass a quiet few minutes, always finding something that puts a smile on your face.
In the product description on Amazon, it is claimed this book is a "complete reference guide to rare and vintage audio equipment" but I think that's over‑egging it rather. This is not an exhaustively complete technical library of historic products, and some manufacturers are only given very brief coverage. Nevertheless, there is a genuine wealth of fascinating information and for anyone with any interest at all in vintage audio equipment, or the history of the professional recording industry, this book is an absolute 'must‑read'. I found this large‑format, hard‑backed, 415‑page book irritating at times and completely hilarious at others, but fascinating and spellbinding throughout. Highly recommended.
Also available on Kindle from Amazon and Barnes and Noble.