Vintage discrete Calrec mic/line equalizer modules offer the most desirable sonic traits of vintage Neve and  API. They combine a snappy, fast, open high end like an API with a punchy in-your-face low frequency clarity that arguably offers the best low frequency characteristics of any of the classic input modules, including Neve, Cadac, and API.
The Calrec PQ15S offers an equalizer similar to a Neve 1084. module.  The low, mid and high frequency bands on the equalizer all feature selectable frequencies. The low and high bands offer selectable shelving or peaking.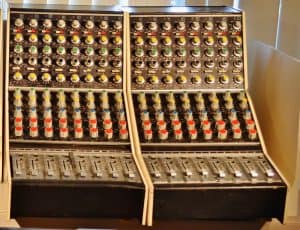 We currently have 2 Calrec J series 8 channel buckets/sidecars complete with Calrec PQ15 modules. These buckets  have GML automated faders but they function perfectly well as normal non-automated faders. We also have 4 PQ 14 modules (which have a simpler but still effective equalizer).
Extensive patching facilities are avail on the rear of the buckets and the units can be joined electronically with a multi-pin cable. The buckets will need an appropriate external power supply.
Considering the current market in vintage recording equipment, these units are a great value..
Buckets available separately or together.