In the pantheon of extraordinary songwriters, few have attained the creative heights of Pete Townsend and the Who.
Similarly, early 70s Neve recording consoles represent the pinnacle of sonic performance. In this particular Neve recording console serial #A246, we encounter a singular convergence of these two legendary creators.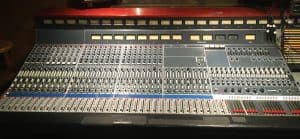 This particular console was custom ordered for Pete Townsend and delivered in 1971 as a 16-input, 8 buss,16 monitor console. It was further expanded by Neve in 1973 to 26 fully equalized inputs and 24 monitor.
In a remix situation, there are 65 separate inputs available to the stereo buss. Unlike many larger Neve consoles built after 1974, the topology of this console is completely Class A from input to output. The patch bay has been
replaced and works flawlessly. There are 34 channels of flying fader automation. Regardless of the photograph(s), the console will be supplied with (24) 1064s and (2) 1081 modules. 
This console was installed in Pete Townsend's Eel Pie Studios and was utilized extensively on The Who's classic rock opera Quadrophenia. It also recorded all of Pete Townsend's solo albums, as well as albums by Siouxie and the Banshees, Thin Lizzy, A-ha, Cocteau Twins, and more. Love, Reign O'er Me and Rough Boys are two recordings done on this Neve.
Grammy winning Mule Variations by Tom Waits and numerous other Tom Waits productions have been recorded and mixed on this desk.
The console is currently installed and available for your technician's evaluation.