Dan Alexander Audio: A Vintage Odyssey is available at Amazon, Barnes and Noble, and many other fine booksellers worldwide.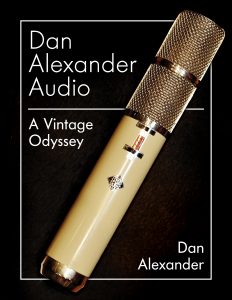 Equal parts history, autobiography, and reference guide, this book offers a unique perspective on the world of vintage recording equipment, by the man who coined the phrase.
A treasure trove of informational resources for anyone interested in the art of recording!
Included are 80 stories and invaluable information on the products of 22 manufacturers.
Over 400 previously unpublished photographs and original equipment brochures.
*A complete listing of microphones sold by Telefunken between 1928 and 1980.
*A complete list of Trident A and B Range Consoles.
*A 7,500 item list of products sold between 1979 and 2000, including serial numbers and price.
*Forewords by Sylvia Massy, Shelly Yakus, Don Larking, Eric Prestidge, and more.
*Helios information and photographs sourced from Dick Swettenham's personal sales binder.
*40+ pages on Neve products.
Dan Alexander Audio: A Vintage Odyssey
published by Rowman & Littlefield.